Lynne is 46yo, married, and the mother of two children. She lives in the Northwest section of Virginia, and works as a Medical Technologist.

She competes in the AAU, USAPL, WNPF, APA and the USPF. She competes in the Woman's 165lb Open and Master 1 Classes.
Her last meet was the 2005 IPF Master's World Championships in Pretoria South Africa. There she won a bronze medal for overall total, and won an individual gold medal for the deadlift with a lift of 200kgs (440lbs)
She has now started training for the 2006 USAPL Woman's Nationals in Denver. If she wins her class, she will earn a spot on the USA team that will compete at the IPF Master's Worlds to be held in Kileen Texas.

Deadlift: 479lb, Total: 957lbher last mee was the 2005 IPF
CHAMPIONSHIPS
1999 USPF Virginia Open, Chincotee, VA

1999 USAPL IronWoman/IronMan, Baltimore, MD

2000 USPF Region 5 Championships, Ambler, PA

2000 USAPL Virginia States, Charlottesville, VA

2001 WNPF American Championships, Baltimore, MD

2001 USAPL Lifetime Drug Free Nationals, Charlottesville, VA

2001 USAPL NE Regionals, Williamsport, PA
2002 APA Virginia Open Championships, Roanoke, VA
2002 AAU Triple Crown 148 Open/Master 1 winner
2002 AAU World Champion 148/Open/Master/Lifetime Drug Free
2004 USAPL Nation's Cup/1st place/165 Open/Master Class
2005 USAPL Woman's National Champion 165lb Open/Master Class
2005 IPF Master's World Championships Pretoria South Africa
-Bronze Medal Winner
-Gold Medal/Deadlift/440lbs
2006 IPF Master's World Championships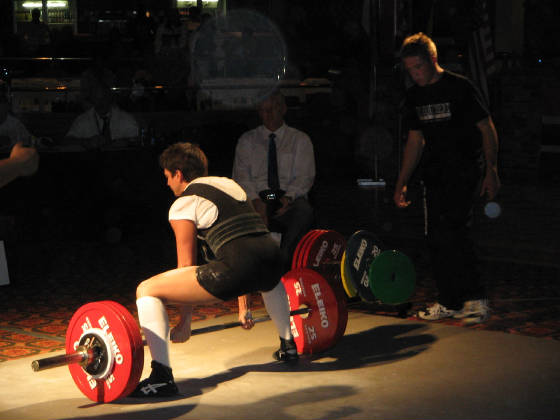 Gold Medal Pull 440lbs@153lbs Bwt
Lynne's best lift is the deadlift. Throughout her lifting, it has been the single lift that has won meet for her.
At the 2005 USAPL Woman's Nationals, Lynne was about 20-25kgs going into the deadlift. Her three lifts were 420-440-462lbs. Meet over
To date her best deadlift was 479lbs at the 2002 USAPL NE Regionals. It was listed in Monster Muscle Magazine as the 15th best ever overall deadlift. As she weighed only 144lbs it was over 3xbwt lift.
Usually a sumo style lifter, Lynne has decided to switch to the conventional style, due to her long leg/long arm body type.
HARD WORK AND ATTITUDE ARE EVERYTHING
THE MEET DOESN'T START TILL THE BAR HITS THE FLOOR