454 Deadlift
This Lift Made Her Ten for Ten
2004 AAU WORLD PUSH/PULL and RICHMOND INVITATIONAL


Lynne was fortunate and won this year's AAU meet held in Richmond. She had a 1016 total, and finished the day with a STRONG 454lb deadlift. She went 10/10 with the extra attempt being a 210lb bench. There was a large number of women lifters, and both the raw and assisted classes were hotly contested.

Another female lifter worth noting is Karen Bowers. Karen lifts in the open 165 class, and is a consistant 1000lb totaler. She is a chiropractor and along with her husmand Tim, run a gym in North Carolina.

Puerto Rico had a junior team that was quite strong and lifted well throughout the meet. They added much excitement to day two's lifting.

Lynne's next meet will be the USAPL Woman's Nationals, this February, in St. Louis. Lynne will enter the 165 M2 class and the open class. If she is fortunate enough to win her class, she will qualify for the Masters World Team, and the meet next October in Capetown S. Africa. We priced the tickets and it is probably financially not in the picture.






Powerlifitng Divas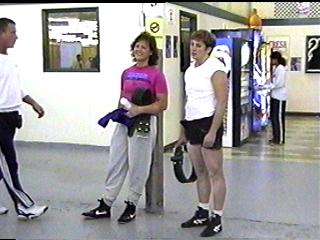 Definately not like Myriah or Celine
This was taken just after the end of the meet. I think Lynne and Karen have a mutual respect for each other, and understand the pressure of being a mother, wife, career woman, and ELITE level lifter. between them there are numerous state, american, national, and world records.